Villa Park City Council Chambers
17855 Santiago Blvd, Villa Park, CA 92861
The chambers are next to the library which is at the opposite end of the shopping center than the Ralphs's.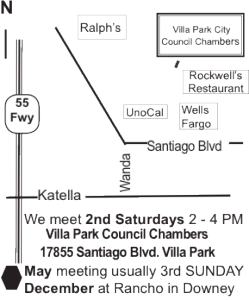 ---
Rancho Support Group Meeting
SSA Building – Room 1150
Ranch Los Amigos National Rehabilitation Center
7601 E Imperial Highway, Downey, CA
Drive to parking structure from Old River School Road. Enter SSA Building from side entrance.
Meetings are held on 4th Saturdays from 2-4pm. The day of the December meeting varies.